Police name girls reported missing believed to be heading for Syria
Police are appealing for information about three schoolgirls who have been reported missing and are believed to be making their way to Syria.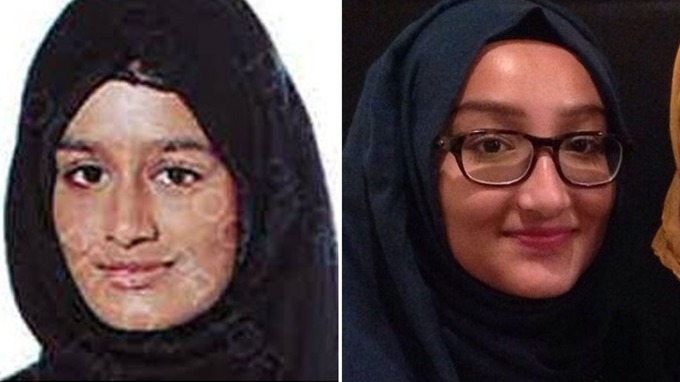 The missing girls are: Shamima Begum (left), 15-years-old - possibly travelling under the name of Aklima Begum, 17-years-old.
Kadiza Sultana (right), 16-years-old.
A third 15-year-old female who is not being named at the request of her family. All three girls are pupils at a school in east London and are close friends.
They were last seen on the morning of Tuesday, 17 February at their home addresses.
They left their homes before 0800hrs providing their families with plausible reasons as to why they would be out for the day.
Instead they met and travelled to Gatwick airport. They boarded a Turkish Airlines flight, TK1966, which departed at 1240hrs to Istanbul, Turkey and landed at 1840hrs local time.
Counter Terrorism Command (SO15) Commander Richard Walton said: "We are extremely concerned for the safety of these young girls and would urge anyone with information to come forward and speak to police. Our priority is the safe return of these girls to their families.
"We are reaching out to the girls using the Turkish media and social media in the hope that Shamima, Kadiza and their friend hear our messages, hear our concerns for their safety and have the courage to return now, back to their families who are so worried about them."
Anyone who saw the girls as they travelled to Turkey either making their way to Gatwick, waiting at the airport, on the flight or when they arrived at Istanbul should contact the police. Any piece of information, no matter how small, could help the UK or Turkish authorities to locate them so that they can be safely returned home to the UK.
Shamima is described as approx 5''7" tall, and wearing black thick rimmed glasses, a black hijab, light brown and black leopard print scarf, dark red jumper, black trousers and jacket, carrying a dark blue cylindrical shape holdall with white straps. She is a British national and speaks English with a London accent. She also speaks Bengali.
Kadiza is described as 5'6" tall, of slim build and wearing black rimmed glasses, a long black jacket with a hood, grey striped scarf, grey jumper, dark red trousers, carrying a black holdall. She is a British national and speaks English with a London accent. She also speaks Bengali. The third missing girl who is not being named is described as 5'6" tall, of slim build, wearing black thick rimmed glasses, black head scarf, long dark green jacket with fur lined hood, light yellow long sleeved top, black trousers, white trainers carrying a black Nike holdall. She speaks English and Amhrick
Shamima and the third girl were reported missing to police by their families later that evening when they did not return home.
Kadiza was reported missing by her family on Wednesday morning.
Police have been working with the families and overseas authorities since they were reported missing in an attempt to locate the girls and return them to their families.