Investigation Into Islamic Centre Destroyed In A "Terrorist Act" Ongoing
Police are continuing to investigate a fire which caused extensive damage to a community centre in Muswell Hill in the early hours of Wednesday 5 June 2013.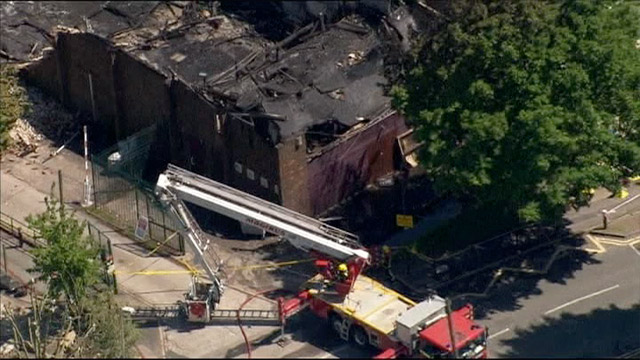 At 03.23hrs, officers were called by the London Fire Brigade to reports of the fire at the Somali Bravanese Welfare Association in Coppetts Road, N10. Police, the London Ambulance Service and the London Fire Brigade attended and two properties close to the blaze were evacuated.
The fire, which is being treated as suspicious, caused extensive damage to the community centre, which remains cordoned off while officers continue their investigations. Graffiti reading EDL was found on the building, and police are investigating any potential connection between the graffiti and the fire.
Specialist officers from the Met's Counter-Terrorism Command are leading the investigation into the incident.
Officers have returned to the scene today (Thursday 6.6.13) as a vigorous and thorough investigation into the incident is carried out.
Police are also speaking to community leaders and residents to offer reassurance and police presence has been stepped up in the area.
Borough Chief Superintendent Adrian Usher said. "I have spoken to community leaders and assured them that a thorough investigation is being conducted.
"The safety of our communities is always our priority and we are consulting widely, offering our support and reassurance. All communities can be confident that they have our support and I can be contacted personally to answer their concerns."
Chief Superintendent Usher said he had received messages of support from other communities, including Jewish and Christian communities, to pass on to the Somali community.
He added: "I have been astonished by the calm resolve that community leaders have displayed. Despite such a blow to the community, their focus has been on moving forward and how best they can bring the community together in a positive way."
There have been no arrests at this stage.
Detectives investigating the fire are continuing to appeal for information regarding the incident and have a number of appeal points.
They would like to hear from people who were in the vicinity of Coppetts Road on the evening of 4 June or the early hours of 5 June, or who may have any information regarding this incident to contact them.
They are also appealing for anyone who either visited or passed the centre on Tuesday 4 June and noticed whether or not there was any graffiti on the front of the building to contact them, as they are keen to establish exactly when the letters EDL were daubed on the centre.
Anyone who can assist police should call the Incident Room on 020 7230 2299, or should contact anonymously Crimestoppers on 0800 555 111.